Soft Plus: Measuring the health, wellness and beauty of skin 
The first complete professional skin assessment system :
The innovations :
Scientific and objective assessment of the skin carried out with probes
Digital and visual assessment using a camera
Advice on the skin of the client and products and treatments to apply
The only true stand alone system with integrated PC
Soft Plus: Complete analysis of the health of the skin – objective and scientific assessment through probes. 
Single parameters:
hydration
elasticity
sebum
pH
melanin
temperature
phototype
biological skin age
Detailed programmes for different areas of the body:
Face programme (hydration, sebum, pH and elasticity tests with advice on skincare)
Anti-ageing programme (elasticity and uniformity of pigmentation to assess ageing of skin and how to act to reduce ageing)
Sun and UV programme (assessment of the level of melanin, phototype and UV index; definition of the type of skin, tolerance to UV rays and the sun protection factor to advise)
Sensitive skin programme (assessment of the level of sensitivity of the skin so that tailored advice on products and treatments may be advised)
Whitening/Brigheting programme (whitening treatments )
Laser programme (assessment of the tolerance of the skin to different laser treatments)
Hands programme (hydration test, sebum, pH)
Hair scalp programme (sebum test, pH and specific advice on hair care)
Cellulite/water retention programme:
Thermography via infra red probe to define the:
1. Level of cellulite
2. Level of water retention
Ideal for advice on treatments and products.
Micro-camera: visual assessment and elaboration of images
– wrinkles
– pigmentation
– keratine
– capillaries
– pores
– acne
– hair density
– diameter of hair shaft
– dandruff
The wide range of magnification (10-400x) allows users to view:
general overview of the skin
detail of the smallest imperfection
assessment of specific conditions such as sensitive skin, acne and cellulite
Special polarized filters means elements below surface of the skin, like capillaries and accumulation of melanin are analyzed.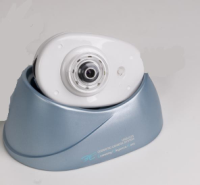 Graphical interpretation of the results:
Receipt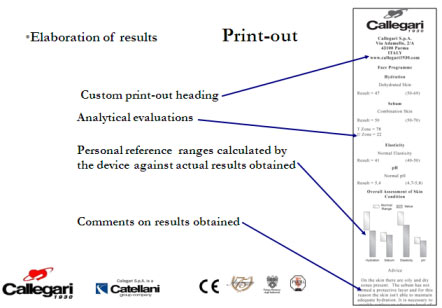 A4 print out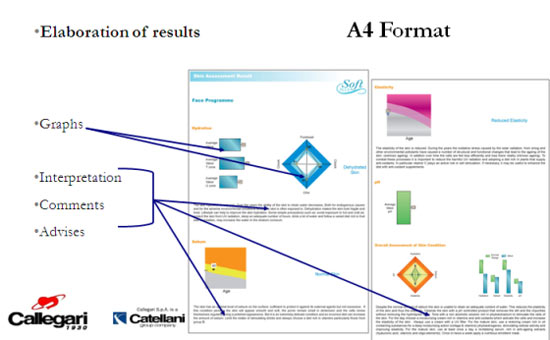 Database for the management of customer's information
Graphical assessment of the different parameters of the skin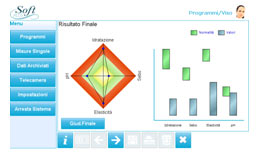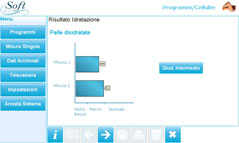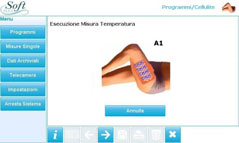 Graphical processing of results and images 
Comments on the results and skin advice

Storege of data, calculations and images through database for the management of customer's information.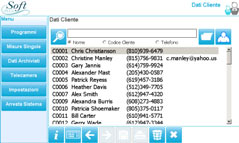 Monitoring of the customer conditions and treatments over time.
Major sectors of interest:
– Cosmetic counters at Department stores
– Cosmetic companies
– Beauty establishments and Spas
– Beauty Therapists
– Cosmetic Research Labs
– Dermatologists
– Pharmacies