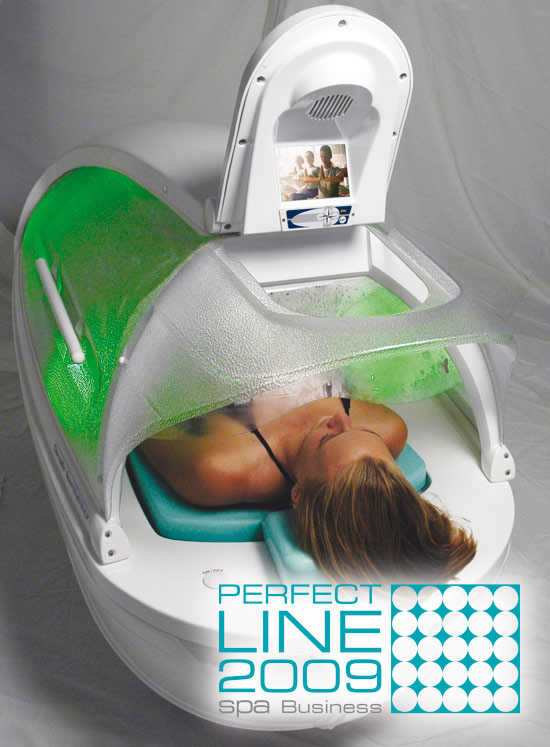 Dermalife Multi-Sensory Spa Systems are a blend of innovative design and exclusive functions. They represent a harmonized system of balance, a revolutionary improvement in spa care. Dermalife spa systems allow you to offer clients truly ancient hydrospa solutions through modern technologies.
Dermalife Spa Jet epitomizes the concept of spa with an indulgent selection of features and programs. This harmonious blend of elements includes four source heat, steam, vibration, color, aroma and sound to create an unforgettable hydrotherapy experience.
Spa Jet is also the perfect environment for body services like muds, masks and wraps. The fusion of steam and radiant heat prepares the skin for improved product penetration and more effective body treatments. Add liquid vitamins to every service for a pampering experience unlike any other.
Indications:
Cleansing & Detoxification
Relaxation
Skin Rejuvenation
Weight Loss
Body Slimming
Improve Skin Tone
Cellulite Reduction
Improve Body Product Treatment Results
Enhance Topical Product Penetration
Features:
Hydrofusion Technology
Steam
Radiant Heat
Dry Heat
360 Degree Vichy Shower
Colorbath LED Lights
Vibratory Massage Bed
Whole Body Oxygen Compatible (When Connected to Oxygen Module – Not Included)
Deluxe LCD Display with DVD Capability
Liquid Vitamin and Aroma Diffusion
Retractable Hand-Held Shower to Facilitate Body Treatments
Specyfiactions:
Weight: 265 lbs/20 kg Height (closed): 40"/102 cm
Height on Pedestal (closed): 50″/127 cm Height (open): 84"/213 cm
Height on Pedestal (open): 94″/239 cm Length: 90"/230 cm
Width: 35.5"/90 cm
Power Requirements: 220 v
Amperage: 15 A Water Inlet: ½"
Required Water Pressure: 2-3 bar
Drain Connection: 1.57"/40 mm tube