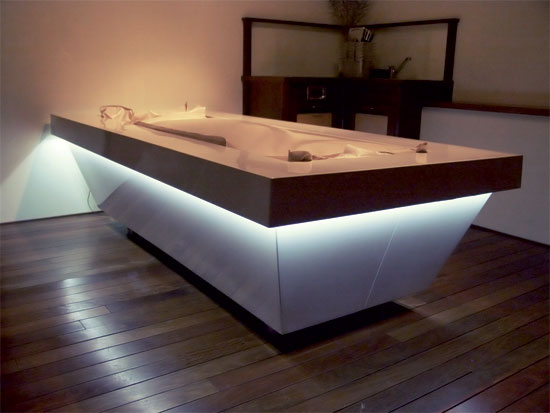 Simply stylish
The new PURE creates a modern and noble atmosphere in your Spa!
The PURE cladding offers a stylish new look to our Soft-Pack® system, with its straight lines, high-quality materials and sensational illumination. An ambiance full of atmosphere is created by white LED lights integrated in the top. The PURE cladding is available in polished fibre glass* with any colour you choose as well as with a stone finish and 4 different types of wood and is available with both the standard and the internal pump Soft-Pack®. Important for all those who already own a Soft-Pack®system: you can actually give your existing Soft-Pack® a modern, stylish look by fitting the new PURE cladding! The cladding consists of only 2 parts and a top cover along with straight stainless steel covers for the feet, which makes the fitting super easy!
*fibre glass is a glass fibre reinforced plastic which is especially smooth, hygienic and easy-to-clean. Also, it is tougher and longer lasting then e.g. acrylic
• modern, straight design
• white LED illumination
• fibre glass* surface available in 200 RAL colours (standard is RAL 9010 pure white)
• 4 different types of wood available: Wild oak, Alder, Wenge, Zebra wood
• 1 stone finish
• available with the Soft-Pack® standard and internal pump
» NEW! LED illumination
white LED illumination, fitted circular below the top cover, protected from pollution and humidity by a silicone coating
» Solid and durable
thousands of Haslauer Soft-Pack® systems prove themselves daily in Spas worldwide – for more than 25 years now
» special membrane
super soft and smooth – only available with Haslauer!
» simple cleaning
the polished fibre glass surface is hygienic and super easy to clean
» profitable
highly reliable while low in maintenance and operating costs
» individual colour choices
chose your individual colour from a chart with 200 RAL colours